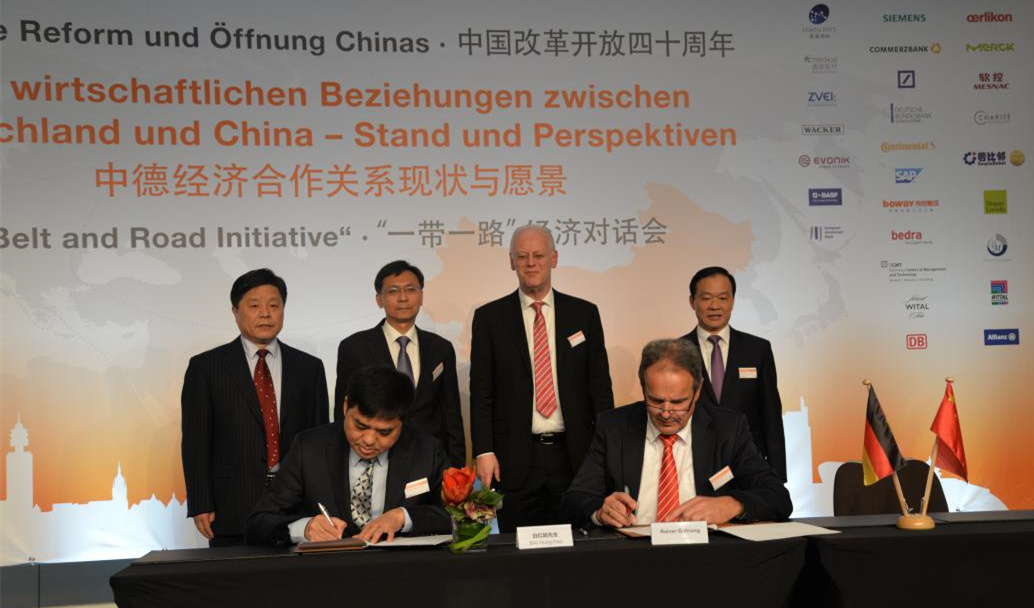 The Xuchang delegation, led by Mr. Hu Wuyue, secretary of CPC Xuchang committee and mayor of Xuchang People's Government, started the eight-day foreign visit by attending the Belt and Road Initiative conference in Germany on November 19, 2018. 29 senior executives, aiming to strengthening in-depth trade exchanges and cooperation, were also among the 42 members of Xuchang delegation.
Mr. Hu Wuyue delivered a speech at the conference, stressing that Xuchang will expand strategic cooperation in tapping emerging opportunities brought by the integration of German Industry 4.0 and Made in China 2025 Initiative.
Four MOUs have been signed at the conference. Specifically, MOU on Steinbeis (Xuchang) Business-University-Research Public Service Center between Xuchang People's Government and Steinbeis Foundation for Economic Development; MOU on urban planning between Xuchang-Germany Economic and Technical Cooperation Leading Group Office and OBEMEYER Engineering Consulting (Beijing) Co., Ltd; MOU on teachers' and students' exchanges & training between Xuchang Vocational and Technical College and Darmstadt University of Applied Sciences; MOU on recycling of waste tires between Xuchang Huari Tire Co., Ltd, Global Ener Tec AG, Monopteros GmbH and RSBK AG.