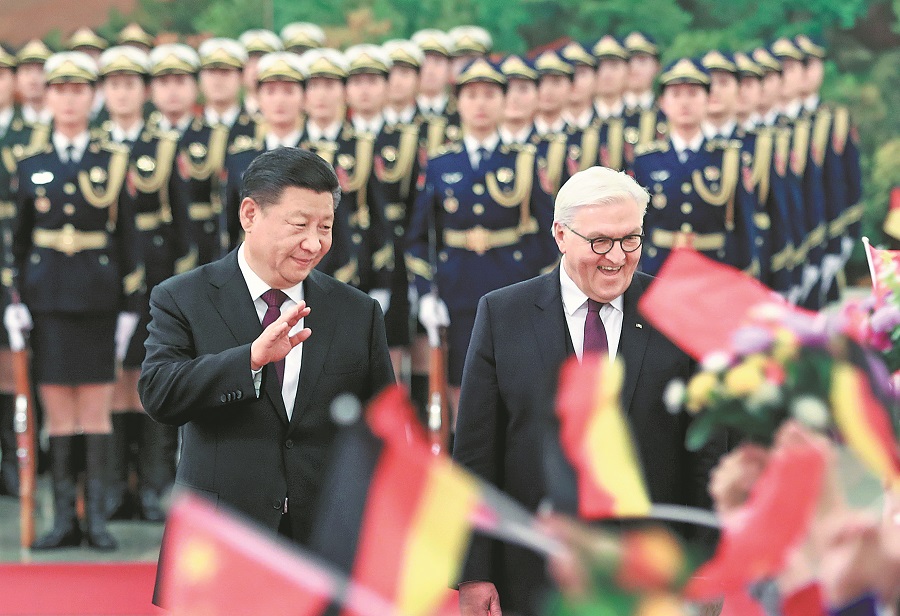 President Xi Jinping and German President Frank-Walter Steinmeier interact with children bearing flowers and flags during a welcoming ceremony in the Great Hall of the People in Beijing on Monday. [Photo/Xinhua]
President says countries are expected to stay attuned to open, innovative collaboration
China is ready to share its development dividends with countries including Germany, and it also hopes the country will remain open to Chinese investment, President Xi Jinping said on Monday.
Xi's remark came as he met with German President Frank-Walter Steinmeier at the Great Hall of the People in Beijing.
Xi said it is important to adhere to open and innovative cooperation to maintain the vitality of China-Germany relations. This year marks the 40th anniversary of China's reform and opening-up, and German businesses already have a head start in participating in the country's new round of opening-up.
He called on the two sides to continue to step up bilateral and multilateral cooperation and provide more stability to the world while benefiting the two peoples.
Mutual understanding and trust is the foundation to further deepen China-Germany relations, and the two sides should continue to transcend their differences in ideology and respect each other's development paths, he said.
China also stands ready to continue close, high-level exchanges with Germany and enhance policy dialogue through various bilateral mechanisms, he said.
Xi also called on the two sides to expand the space for cooperation through the platform of the Belt and Road Initiative.
China is open to discussions with Germany on third-party cooperation, and to pushing forward alignment between the Belt and Road and the Euro-Asian connectivity strategy to jointly make the Eurasian market bigger, he said. He added that Beijing is willing to work with Germany and other countries along the route of China-Europe freight trains to enable better development of the trade route.
The two nations should also persistently promote people-to-people exchanges and build more platforms for exchanges in culture, education, youth and sports, he said.
Xi called on the two nations to jointly move forward with global governance, work together to develop an open world economy and safeguard the multilateral free trade system.
It is also important that the two sides implement the Paris agreement on climate change, promote strong, sustainable, balanced and inclusive growth of the world economy and jointly safeguard the multilateral system with the United Nations as the core, the president said.
Steinmeier, who visited Guangdong and Sichuan provinces before the meeting, said the visit has made him an even greater admirer of the achievements of China's reform and opening-up over the past 40 years.
The German leader said China's success in lifting hundreds of millions of people out of poverty cannot be ignored.
Germany is willing to conduct closer coordination with China in international affairs and jointly safeguard free trade, he said, adding that the country is opposed to any form of trade protectionism.
Premier Li Keqiang also met the German president on Monday.
Li said that China welcomes more German businesses to expand investments in China, and it also hopes Germany will create an equal space for Chinese businesses in the country.