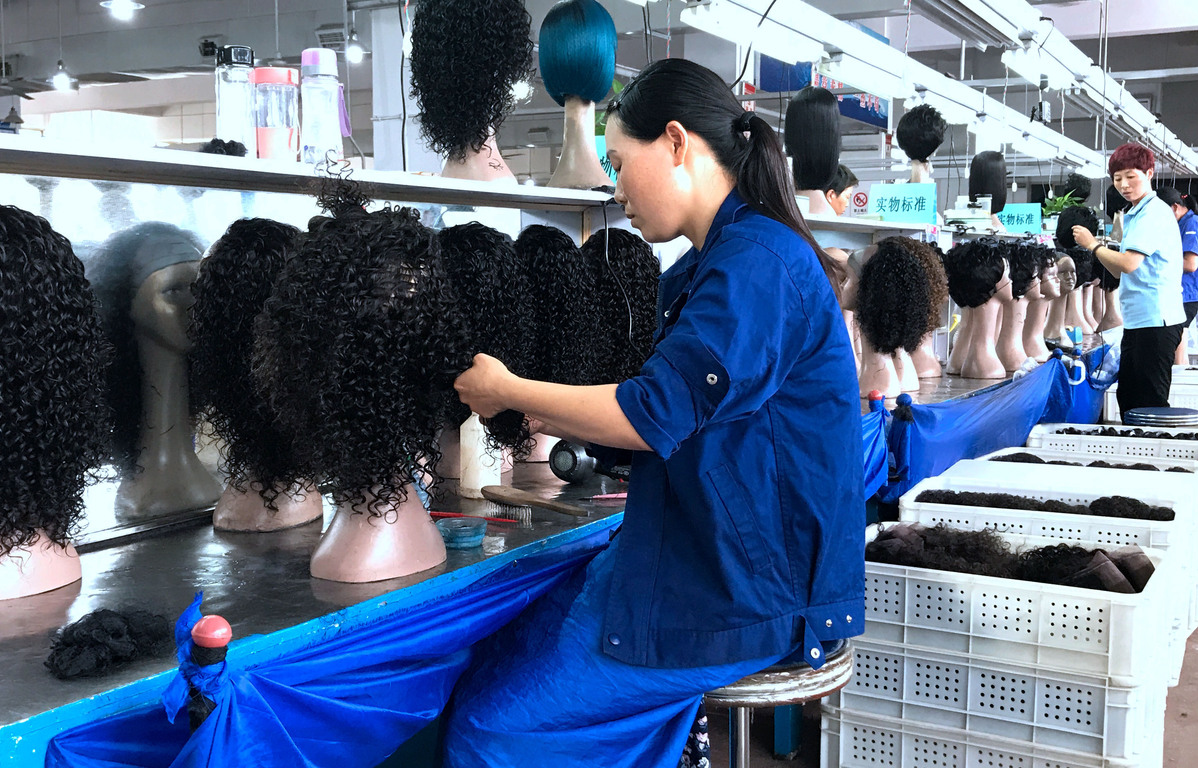 A worker prepares a wig at a factory in Xuchang, Henan province in July last year. NIU JING/FOR CHINA DAILY
Miriam Ginika, a businesswoman in Lagos, Nigeria, doesn't braid or weave her hair. To allow her to change hairstyles as often as she likes, Ginika, 45, has worn wigs for the past two decades.
"I don't wear wigs because of any hair problem, I do it for fashion and convenience," she said.
Ginika said wigs are convenient and "cool", and that her favorites are curly black or dark brown.
The Nigerian is one of an increasing number of consumers worldwide wearing wigs made by Chinese producers, many of which can be traced to Xuchang, a city in Central China's Henan province.
Nonetheless, when Zheng Gaowei, who has been collecting human hair for a living for the past decade, returns home to Xuchang's Xiaogong village with several bags of hair, he is worried by the growing number of people he sees in beauty salons with shorter hairstyles or using dyes.
"Very few people leave their hair long now," he said.
Zheng, 40, said that "naturally colored, less oily" wigs are the most sought-after, but coming across those "is really rare these days".
Xiaogong village, which has many small workshops where hair is processed for wigs, forms an important part of the economy of Xuchang, a city known as a wig-making hub where locals have collected hair for the industry since the Qing Dynasty (1644-1911).
Wig companies in Xuchang account for up to half of China's hair product exports. The total output value of the city's hair products hit 23.6 billion yuan ($3.34 billion) in 2018 alone, according to the local commerce bureau.
However, while more than 350 households in Xiaogong were involved in the hair industry at its peak, fewer than 100 are involved now, Zheng said.
"Very few young people are in this line now and they don't want to stay in the village," Zheng said. "We're left with old people, about 50 to 70 years old, in the trade."
Zheng said he also travels around the country for work, going as far as Yunnan and Guizhou provinces in the south.
"Running around looking for hair is tough work, and whether you can get good material really depends on luck," said Zheng, who added that he can make about 10,000 yuan ($1,400) a month.
Wig-making has also been a business for centuries in Xuchang's Quandian village after German merchants discovered how hair of residents there was "straight with a healthy sheen", said Zhang Tianyou, vice-president of major wigmaker Henan Rebecca Hair Products. Foreigners began to trade embroidery needles and forks for the material, and street peddlers calling out for residents' hair soon became a common sight in the village, Zhang said.
Henan Rebecca Hair Products, after nearly three decades in the business, now supplies stores in more than 40 countries and regions in North America, Europe, Asia and Africa, Zhang said.
The company had set up about 20 directly operated stores in the United States for high-end consumers before the US began imposing additional tariffs on imports from China, but it does not expect to be significantly hit by the trade friction, Zhang said.
"Even if we are faced with increasing challenges, we believe in the opportunities offered by the market," he said.
The company initially focused on the domestic market, but as business became brisk, it began looking overseas and opened a wholly-owned factory in Nigeria in 2003, becoming the first Chinese wig producer on the continent, Zhang said.
To satisfy the growing demand and localize its manufacturing processes, Henan Rebecca Hair Products also set up its own company in Nigeria and Ghana, said Zheng Wenqing, the company's general manager.
"The localization of our manufacturing processes is a priority. It can help better satisfy local demand as well as reduce costs," she said, adding that the company's reach now includes western, southern and eastern Africa.
Nigeria is biggest market
Godwin Ezeigbo, the marketing manager of Rebecca Fashion Ltd in Lagos, said the company's products have been well received in the African market due to their quality and affordability.
Although it has clients in such African countries as Benin, South Africa, Ghana and Kenya, the company's biggest market is Nigeria, he said.
"Both synthetic and human hair wigs are doing well in the Nigerian market," he said. "The sales of human hair are, however, higher than synthetic wigs, because they offer the most natural look and feel. They are also more durable than synthetic wigs."
Longer hairstyles are generally more popular, but in warmer weather the shorter ones sell well, he said. Ezeigbo said demand was low during the recent prolonged rains in Lagos, but he expected sales to pick up in September. December is another peak time due to festivities held then, he added.
Meanwhile, hair products from Xuchang are also top-selling items on e-commerce giant Alibaba's shopping portal, maintaining a growth rate of more than 400 percent in the wig trade alone for two consecutive years and ranking third among the most traded commodities, said Li Xiaomin, chief of the foreign trade administration section of Xuchang's commerce bureau.
Online customers also prefer more personalized wigs compared with customers of traditional sales channels, said Zhang Huiting, general manager of the hair company's e-commerce department.
In countries like Nigeria, Ghana and Tanzania, the company's major brands, Noble, Magic and Fashion Idol, which feature popular synthetic hair products, are "perfectly aimed at being stylish and trendy with modest prices", Zhang said.
The China-proposed Belt and Road Initiative is also set to help fuel growth in the industry, boosting market and demand, she said.
The rise of e-commerce has dramatically changed the industrial chain, said Wu Li, president of Xuchang Fuxin Hair Products Co, who arrived in Xuchang from Hong Kong in 2003. Wu said her company has been involved in cross-border e-commerce for nearly five years.
E-commerce has prompted companies to consider the needs of consumers more effectively and connect producers more closely with customers, Wu said.
Sun Weifeng, 27, who is in charge of the AliExpress global retail section of Wu's company, said getting positive feedback from customers in English has been very encouraging.
In Serbia, the owner of the popular Koko Hair Studio, who prefers to be known simply as Ivana, praised the quality of Rebecca Fashion's Sleek line of wigs and said an increasing number of people are buying the wigs.
"I found Sleek through the internet and decided to try their products first. Then I saw how high the quality of their products is," she said.
Sleek wigs offer high-quality lace and middle sections and, most important, hair material that provides natural-looking styles and soft textures, she said.
"Our consumers include both men and women. Some of them want longer and thicker hair just for beauty, while others unfortunately may have health problems that may make them lose their hair," she said.
She said her customers range in age from 14 to 70, and that she sells from 150 to 200 wigs each month.
In Xiaogong, villager Zheng Gaowei has come to realize that the era of collecting real human hair for the wig industry is on the wane. Facing that reality, Henan Rebecca Hair Products has been moving its upstream supply chain to other areas such as India, as well as focusing on synthetic fiber, the other major raw material for wigs.
The company is gearing up to improve the technology behind the material, said Zhang Shaoying, manager of the company's synthetic hair production base.
Challenges remain
Before 2008, the group mainly imported fiber products from Japan and South Korea, Zhang said. But it now makes its own fiber material, with nearly 200 stores helping to promote its latest products in first-and second-tier cities across China, Zhang said.
Despite progress, businesses said there are many challenges to the industry's continued growth.
One of the biggest challenges in the Chinese market is convincing consumers that wearing wigs is fashionable "and not just something for people who experience baldness or actors who need to play roles", said Wang Shixin, director of the technology center at Henan Rebecca Hair Products Inc.
"In terms of the Chinese market, it is a sunrise industry," Wang said. "The demand for this fashion will increase as people's living standards improve."
Alexis Hooi contributed to this story.